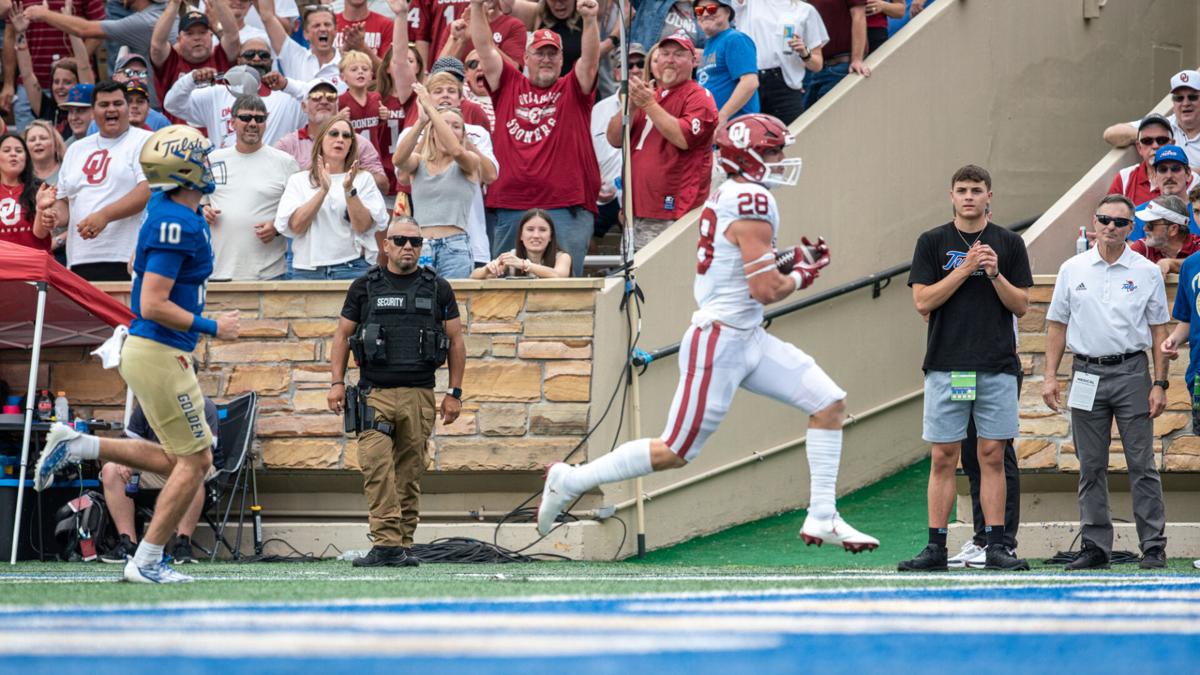 Re-Scouting the Opponent
Tulsa Golden Hurricane
Well, that went about as expected. Perhaps better than expected. But as Barry Wise wrote in the pregame scouting report, "This feels like the game where the Sooners defensive line starts to create some confidence." And that sure came true, as did a few other things predicted by Mr. Wise, including the bevy of interceptions.
Overall, Tulsa was about what we expected. New head coach Kevin Wilson has a lot of great concepts in his playbook, but has not had a lot of time with his team and does not have a lot of top end talent at his disposal. And the quarterback situation that was a question mark leading into the game remains a huge question mark for the Golden Hurricane going into conference play in the American.
One unique factor about this early season schedule for the Sooners, both SMU and Tulsa hail from the American, the same conference as new Big 12 foes Cincinnati (this weekend) and UCF (at home in Norman in a few weeks). Could the warm-ups against the Ponies and Hurricane help OU prep for the Bearcats and Knights?
---
Observations
OU Defense – Run Stopping Machine
We will get into some metrics in a separate piece regarding OU's run defense this year, but the defensive unit showed up in Tulsa on Saturday and delivered a great performance in run defense.
Tulsa will not be the most potent offense OU will face this season, and they certainly lack the top end talent at running back that others like Texas, Kansas, and, frankly, SMU. But through their first two games of 2023, the Golden Hurricane had found some success in the run game under new head coach Kevin Wilson's power-spread scheme. Through those two games against Arkansas-Pine Bluff and #9 Washington, the Tulsa offense put up 428 rushing yards (214 per game), good for 4.8 yards per carry.
On paper, it looked like a decent challenge for an OU rush defense that was clearly improving, even showing signs of dominance at times. And OU met that challenge head on.
The Sooners were able to shut down the Golden Hurricane rushing attack, limiting Tulsa to 71 rushing yards on 1.5 yards per carry, 143 yards and 3.3 yards per carry lower than their average output. OU amassed a whopping 15.5 TFL (8.5 TFL from the defensive line) in the effort.
Causing Chaos
The run defense wasn't the only defense that showed up. The Sooners were able to generate enough pressure to force not one, not two, but FIVE (5) interceptions.
Through the first two games, there was some discussion about the defensive line unit and their perceived lack of production. With only one sack from the entire unit through two games, some of those concerns were valid. Our own Kyle Dahlgren broke down the advanced metrics in last week's After Further Review, and we will be circling back with a separate piece as more data gets added. But save for two or three shaky drives where the Tulsa offense was able to find some holes in the zones for some chunk yardage, the passing defense showed up as well.
True freshman PJ Adebawore added his first career sack, Marcus Stripling got into the action with a sack of his own, and Jaren Kanak added one from the linebacker spot. The entire unit was disruptive from the first snap, when Jordan Kelley, with a little help from Danny Stutsman, helped collapse the pocket, not allowing the quarterback to step into his throw, forcing a lofted pass that was eventually intercepted by Gentry Williams. The coverage was great, but the pressure forced the bad mechanics leading to the easy grab.
The linebackers gave a big assist on the second pick as well, as a blitzing Stutsman and Kanak got deep into the pocket helped by a defensive line that completely collapsed the Tulsa OL. The play once again caused the QB to rush his throw from an offbalanced platform, allowing Kendal Dolby – again in good coverage – to undercut the out route and grab the pick.
Late in the game, Key Lawrence gets his second turnover in as many weeks after tracking down an errant deep ball. But rewinding the play, you see Gracen Halton – who made a couple really good under-the-radar plays on Saturday – attack the A gap, work himself past the center with a semi-swim move for a free shot at the quarterback, forcing an unbalanced and rushed throw.
In this quick highlight video, you'll see some of that chaos, including the Gentry, Dolby, and Key picks, a few near-picks (cough Peyton Bowen cough), and PJ's first sack. The other two interceptions are coming up in the next segment.
---
Key Plays
Drake Stoops RPO Touchdown
After the offensive "debacle" from a week prior against SMU, Offensive Coordinator Jeff Lebby was focused in this one. With Ou driving up 7-0, Dillon Gabriel and the offense are faced with a 3rd and 3 from the 4 yard line. OU is in 12 formation, with Drake Stoops lined up as an off-the-ball Y to the left, almost as a snuffer on this play, with Jalil Farooq split wide at Z. Tulsa is thinking run, stacking 8 in the box, 9 if you count the free safety just outside, and running man up on OU's receivers. Lebby calls a perfect RPO with Tulsa in man, as Farooq motions across the field, pulling his CB. The option freezes the safety, giving Stoops enough time to clear out for an easy pitch and catch for the touchdown. Good pre-snap read by Gabriel, and nifty play design by Lebby using the line to hide the 5'10" Stoops.
Danny Stutsman Pick-Six
This website is now the "Official Danny Stutsman Fansite." After last week's incredible performance, Stutsman showed up bigtime once again, including this brilliant pick-six late in the first quarter to stamp an early three touchdown lead. Stutsman plays his responsibility, showing patience in his zone while he reads the quarterback's eyes. Here's a good example of what the coaches are hoping klicks for Jaren Kanak down the line – more patience. There's no need to get happy feet while playing your zone waiting for the play to develop. The Tulsa QB has good timing on his throw as the receiver is breaking behind a defender, but he doesn't see Stutsman sitting in the area and let's it fly. Stutsman uses his athleticism to not only react, but reach out, bat the ball, and tip it to himself, corralling it in before sprinting 30 yards to the endzone. We've now seen Stutsman make drive-stopping sacks, snuff out screens, and create turnovers. Conference play is arriving, and it's time to take it up another notch.
Jayden Gibson Catch
This one is probably the least heralded of the big plays, but it could end up being one of the most important plays from the Tulsa game as it relates to the rest of the season. Our own Barry Wise broke down this play design, highlighting its potential with the athletes OU has coming in. Imagine running this play with Jayden Gibson (or Zion Kearney), Jaquaize Pettaway (or Zion Ragins) as the motion man, and Davon Mitchell as the tight end. Tough choices for the defenders. But it still works really well here on this play. Stoops comes in motion towards the flats, and Gibson's get-off pauses the defender for just a split second, as it could look like a wide receiver screen briefly. Gibson then gets a clean release upfield, and the offensive line gives Gabriel a fantastic pocket to deliver a pass only the 6'5″ Gibson could snag. Gibson not only high-points the ball, but showcases his newly-found confidence in his hands, grasping the ball and holding it away from two defenders as they reach in on his way to the ground to complete the catch. Great play that moved the chains, and Gibson's only catch on the day, but it provides yet another huge notch on Gibson's belt and boosts his confidence going into conference play.
Trace Ford INT
Okay, we can get behind linebackers dropping into coverage and grabbing picks. But when a defensive end does it, it will for sure be a top play, pretty much every time. Perhaps the only thing preventing this from being the play of the day is the stumble inside the 5. You KNOW Trace Ford wanted to finish this play. It all started with a nice wrinkle from the defense. For as much praise as Lebby got in this game, Ted Roof deserves credit for dialing up some timely calls like this one, especially after those two poor defensive drives near the middle of the game. This alignment had Ford kicked inside with Gracen Halton, and PJ Adebawore out wide at rush end. Kip Lewis and Kobie McKinzie are both up at the line showing blitz. At the snap, both linebackers rush their gaps, while Ford pulls across the backside and loops around. Halton ducks to Ford's gap, crossing the faces of both the center and right guard, and eventually beating the guard to the gap. The quarterback is looking for the running back screen and loses sight of Ford, who is now rounding into his spot on the right end near the RB. Halton gets a free rush at the QB, rushing the throw towards Ford. Ford shows good athleticism hauling in the pick and heading downfield. A great play call and play design from the OU defense.
Nic Anderson Touchdowns – All of Them
We're just going to bundle these up and give Nic Anderson the player of the game. Because wow. It's been a long time since a big-bodied receiver like Anderson dominated an opponent for the Sooners like he did against Tulsa on Saturday. And the 6'4″ receiver from Katy only needed 14 snaps to do it. CeeDee Lamb (6'2″, 185) often played bigger than his size, making jaw-dropping moves in the open field and using his wiry body to bully through defenders. But Anderson, listed at 6'4″, 207, fights in a whole different weight class, and he threw that weight around, fighting through contact after the catch on several of his long touchdown grabs. Anderson showed a knack for the big play in all three of his catches, reminiscent of his big brother Rodney Anderson during his days as a Sooner running back. And grant a consolation prize to Jackson Arnold for the beautiful downfield throw on his long connection with Anderson, stepping into the throw with a free defender right in his face about to initiate contact.
---
Stock Up
Danny Stutsman
If he keeps playing like this, his stock will reach levels of hypergrowth only seen by GameStop. Each and every week, Stutsman continues to show his growth as a football player and leader. Add a pick-six to his laundry list of early season accomplishments. There's not much else we can say about Stutsman at this point in time, other than it's time to prove it when the Big 12 lights come on.
Dillon Gabriel
Up, then down, then back up again. The often polarizing quarterback lit the Tulsa defense on fire on Saturday, doing things no OU quarterback has done before. Gabriel was nearly flawless, completing 28 of his 31 pass attempts for 421 yards and 5 touchdowns. He showed poise, threw with great rhythm, and added a little touch to all areas of the field. Now, his three misses were bad misses, and he got no help from his line on his interception, but he picked himself back up and continued the offensive onslaught before passing the torch to Jackson Arnold. Gabriel's real test begins Saturday in a road matchup against a pretty good Cincinnati defensive line.
Nic Anderson
What's a player of the game award without a buy rating? The redshirt freshman has looked good so far in 2023, but he slammed an exclamation point on his arrival on Saturday. In only 14 snaps on the day, Anderson turned his opportunities into three (3) receiving touchdowns totaling 120 yards. Anderson has showcased his run blocking so far, but Saturday he showed his physicality with the ball in his hands, rumbling down the field through contact for plenty of yards after catch on two of his long touchdowns. This is starting to look like one of the better Sooner receiver groups in recent memory.
PJ Adebawore
The true freshman phenom was expected to make an impact in 2023, and it feels like we're right on the precipice of his arrival. Saturday was a good start. The former five-star flashed numerous times with his quickness and length, showing some elite natural bend around the corner and an ability to finish on his first sack of his career. PJ added another 1.5 TFL to his day and looks to build on the good performance this weekend in Cincinnati.
Jaren Kanak
I'm going out on a limb with this one. There was a lot of good all around for OU on Saturday, but Jaren Kanak – just like with PJ – seems like he's right on the cusp of breaking out. Kanak was disruptive on Saturday, in on numerous pass rush plays that disrupted the Tulsa quarterbacks, including a flush out that led to an incompletion on a 3rd and goal play in the second half. Kanak added a sack to go with his 5 tackles and 2.0 TFL on the day. If Kanak continues to calm down when the bullets start flying, his natural abilities will allow him to take over from the MIKE spot.
Stock Down
Offensive Line
Caleb will have a little more on this in a minute, but there was some ugly on Saturday and most of it involved the offensive line. I don't think a year has gone by where we had some questions about early season struggles with Bill Bedenbaugh in town. And after an offseason where we heard great things about Savion Byrd, McKade Mettauer, and the entire unit, there is definitely a lot left to be desired at this point in the season. Byrd is likely out this weekend, but he was replaced in the SMU game and was on his way to being replaced again in the Tulsa game. Mettauer just looks flat out overmatched at times. And overall, the entire unit seems out of synch, especially on run plays. Time to get this thing sorted out, Bill.
Marcus Major
Gavin Sawchuk is back, and although he only got 9 touches on Saturday, it meant there were zero left for the senior back from Millwood. Tawee Walker also failed to get a touch on Saturday, but it seemed more of a preventative as well as a final opportunity for others to really show out. But Major didn't really get that chance, and with the early emergence of Walker and the return of Sawchuk, it is not looking good for Major.
Jovantae Barnes
Unlike Major, Barnes did get his touches in this one, leading the Sooners on the ground with 13 carries for 68 yards and a 1 yard score. But it just didn't look right at times. Perhaps Walker was indeed limited to a few snaps and no touches to give Barnes the room needed to showcase his stuff. I'm just not sure if it was enough. At times, it looked as if Barnes was running with sand in his shoes. And his vision, leaves a lot to be desired. His one yard touchdown run would have happened completely untouched, if he didn't run into the back of his own tight end blocking in front of him. The run game is just meh through three games, and unfortunately for Major and Barnes, it's time to see what some other guys can do.
Gavin Freeman
It was hard to find another Sooner with more hype in the offseason than Freeman. The talented former walk-on is diminutive, but makes up for size with his speed, burst, and strength. We at 360 expected him to assume the starter role at the H at some point early in the season based on his potential, but aside from the first quarter against Arkansas State, Freeman hasn't found a lot of rhythm in the offense, managing only 2 catches for 1 yard against Tulsa and not registering a catch against SMU. Still a force at punt returner, perhaps Freeman can find other ways to impact the game while the deep receiver room keeps his touches to a minimum.
The Big 12
Do we really need to dive into this one? Oklahoma State getting stomped by South Alabama. Baylor losing to Texas State. Iowa State dropping a game to Ohio. OU's next opponent Cincinnati dropping a game to Miami… of Ohio. Kansas State blowing multiple leads against Missouri. So far, a Texas win in Tuscaloosa, while it looks worse as we go, is the only saving grace for the conference, excluding the hot start from the Sooners. With only two ranked teams – both of whom are moving on to greener pastures next year – the conference is in dire need of stability. And the quarterback carousel does not seem to be helping.
---
Commentary
Well, we're a quarter of the way through the season, and one thing pretty much every Sooner fan hoped for appears true. This 2023 squad is better than the 2022 squad. And so far, from the looks of it, that margin might be wider than many thought.
Not that Tulsa was going to provide a huge scare, and Oklahoma should expect to beat (and cover) the three out of conference opponents from 2023, but this team is showing heaps of improvement in areas of concern entering last offseason. The run defense is looking like the makings of an elite unit. The defense overall is generating turnovers, getting stops, forcing negative plays. The offense has a few kinks in it at the moment, but many are fixable problems with what we have on the roster. And how many seasons now have we been frustrated with offensive line play early in the season, before the unit gels and begins to road grade? We've got to be close. Can that happen before Dallas? If so, look out. – Matt Burns
Chris Mason
Stock Up: Danny Stutsman, Dillon Gabriel, Nic Anderson, Jalil Farooq, Woodi Washington
Stock Down: Offensive Line, 2nd QTR defense, TE Position, Bama's QB position, Justin Harrington's 2023 Season
Review: Coming out of the Tulsa game, the multi-threat OU WR room has the definite potential to be the story of the OU 2023 season. If this WR group can continue the play of the Tulsa game, then they could raise the overall level of play by Dillon Gabriel pushing his completion percentage above the magic 70% number, and his QB quality rating into the 170s range against better competition. And this WR group could offset the current struggles with the OU running game and/or open up the running game. Now it would be easy to freak out a bit about the defensive secondary woes in the 2nd QTR, but OU was subbing in a lot of new players especially at CB after the stinger injury to Gentry Williams in the 1st QTR. In fact, out of a 70 player travel squad, OU played 37 defenders on Saturday. The subbing, the large lead, and the flood of INTs probably also led to the defensive relaxing a bit at the same time Tulsa brought in their more mobile/more talented QB. After one 3rd QTR drive though, the OU defense dominated Tulsa and took over the game again. So OU is 3-0 and has done a great job playing and creating the depth that BV talked about all preseason. That mission was accomplished and should help the next two weeks before OU gets to Dallas.
Caleb Cummings
Stock Up: Dillon Gabriel, Nic Anderson, Jalil Farooq, PJ Adebawore, Danny Stutsman
Stock Down: McKade Mettauer, Jovantae Barnes, Blake Smith, Andrew Raym, Reggie Pearson
Review: Well…the beast is beginning to awaken. Oklahoma exited Tulsa with a historic offensive performance vs the Golden Hurricanes where OU racked up 595 yards of total offense, and only managed to throw 5 balls on the afternoon that were not completed. Yet there is some level of worry around the interior offensive line, running backs and run game as a whole.
What stood out about Saturday most for me though was how well Oklahoma played complimentary football for 4 quarters. It seems as though it has been a decade or longer where all 3 phases played a dominant game. In seasons past, Sooner teams have consistently fallen asleep on special teams following back-to-back possessions where it looked like they may be starting to dominate their opponents. Saturday, that didn't occur. Under Lincoln Riley, arguably the most common occurrence was for OU to dominate offensively in historic fashion, only to give up numerous big plays as the head coach and his team fixed their eyes on the scoreboard in hopes they could magically speed up the clock and end the competition. Seeing this team refocus after a few drives where Tulsa managed to take advantage of a few backups and some vanilla defensive calls to me looks like clear indication of growth inside the program BV took over.
The games that the 1st year defensive ends (PJ & Trace Ford) turned in were impressive showings, and something you hope is a sign of Ford beginning to hit his stride as he returns from injury. And in the case of PJ, the hope is the light is truly beginning to come on and he begins a reign of terror on his way to the NFL.
For all the noise that was pointed in the direction of Jeff Lebby and Dillon Gabriel following the SMU outing, an equal amount of praise has to be heaped on both for what really was one of the best games a Sooner QB has had throwing the ball in school history.
The emergence of Nic Anderson sticks out as a clear high point, because as I think we all saw Saturday, the more OU can get Jalil Farooq the ball in space the more impactful he can be for this team. You hope Anderson and Gibson continuing to play at a high level when given the opportunity gives Emmett Jones and Jeff Lebby the confidence to play them more and get Farooq on the field with them at inside WR.
Yes the interior offensive line has to be better, and yes the run game must improve. But from what I saw on Saturday afternoon was not a case of OU's OL physically not having the ability to hold up, rather it was a case of technique falling apart in moments and a handful of missed assignments. If Bedenbaugh can continue to develop that unit, as he historically does, they have a chance to be very good. I just hope they find that groove by the first weekend in October.